Debra A. Jenkins
Posted 6/2009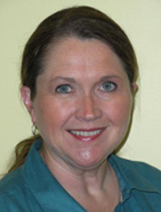 Rev. Deb Jenkins, BCC, is the Home Care/Hospice Chaplain for a not-for-profit healthcare system in the Hampton Roads area of Virginia. Deb serves on the Leadership Team for Home Care providing spiritual oversight; the Quality Assurance/Process Improvement Team for Home Care; the Professional Advisory Committee for Home Care; and the Inter-Disciplinary Team for Hospice. In addition to providing End of Life Spiritual care to Hospice patients and their families, she offers spiritual and emotional support for the Hospice team members as well as overall support for the entire Home Care Division — be that for support staff or other patient concerns.
Deb is a native of North Carolina and was raised in Charlotte where she graduated from Queens College (PCUSA) (now Queens University of Charlotte) with her BA in English. She is an alumnus of Liberty University where she received her MA degree in Religion with a Concentration in Counseling. She also is an alumnus of Regent University where she completed both her MDiv degree in Practical Theology and her MA degree in Community Counseling.
Deb went on from there to her year-long residency in Clinical Pastoral Education completing it with emphasis on Hospice care. She was ordained to full time ministry affiliating with the International Ministerial Fellowship of Minneapolis, MN. She became a Board Certified Chaplain with the Association of Professional Chaplains in 1999 after serving a year in hospital chaplaincy. Since that time she has served full time in her current ministry with Home Care/Hospice with emphasis on End of Life care.
When she's not working, Deb engages in some "self-care therapies": spending time with friends playing Ginasta and eating Mexican food, working in her flower garden doing "digging in the dirt" therapy, and doing retail therapy always on the lookout for a discount. As visits and time allow, she enjoys trips to North Carolina to spend time spoiling her two nephews — Luke and Micah, and her niece, Lyndi.