Civilian Chaplains Please Read
Dave's Occasional Civilian Blog
31 August 2018
Interesting 11-minute interview. Gives the listener a glimpse into the struggles hospital chaplains and ethics consultants.
How Religion Shapes The Way People Approach Medicine
---
28 August 2018
Sadly, this is also true of many chaplains, especially if the seminary from which they graduated stressed evangelism and church growth over pastoral care and counseling.
Mental health is a topic that a lot of churches and pastors feel uncomfortable addressing.
Clergy Not Prepared to Meet Congregations' Mental Health Needs
---
10 August 2018
Still Haven't Ordered for Spiritual/Pastoral Care Week? What are YOU waiting for? Check out our incredible items to help support our upcoming event!!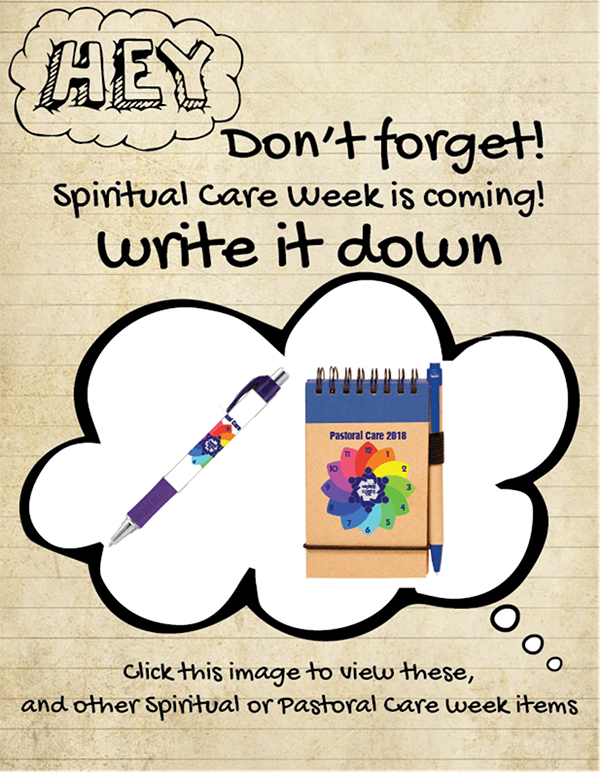 CLICK IMAGE TO VISIT WEB SITE
---
30 July 2018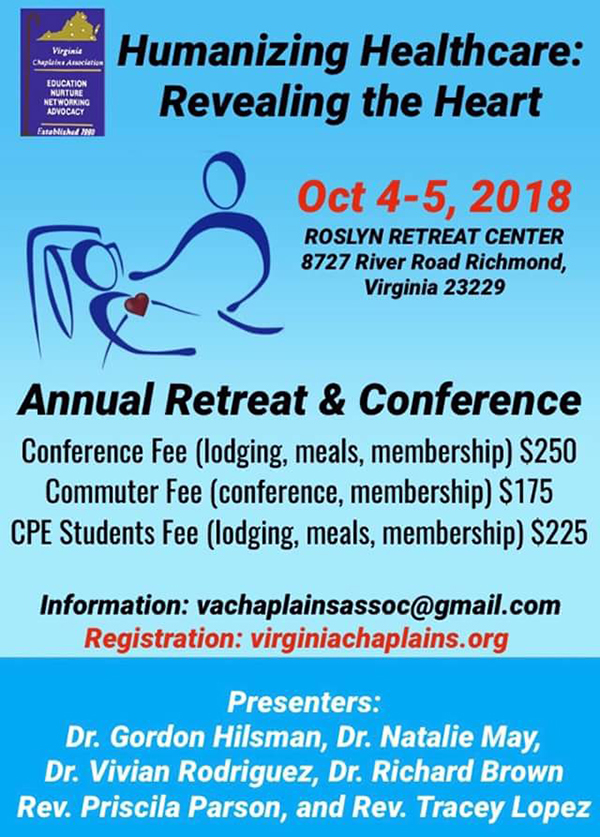 CLICK IMAGE TO VISIT WEB SITE
*While the CSC is pleased to advertise this retreat, we are not a sponsor, nor are we promoting it.
---
02 July 2018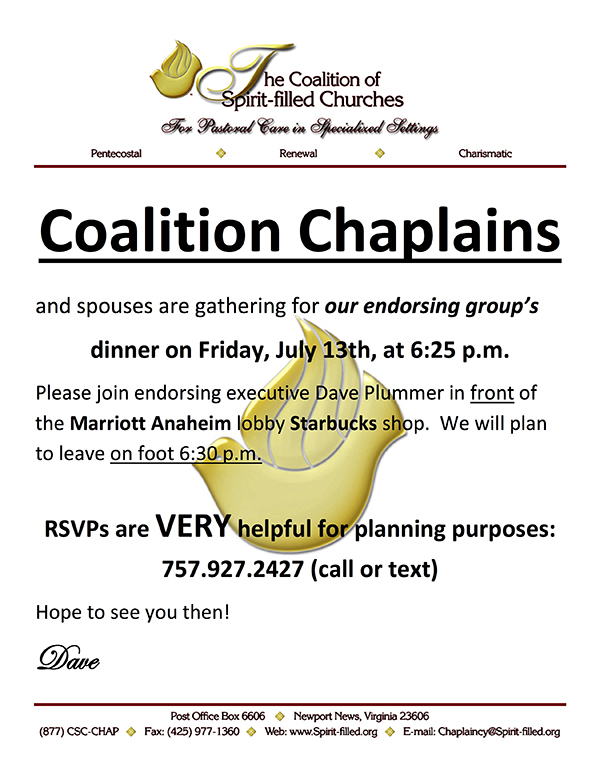 CLICK HERE FOR DOCUMENT PDF
---
02 July 2018
Journal of Pastoral Care & Counseling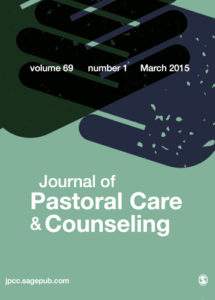 The Coalition of Spirit-filled Churches is a proud sponsor of the Journal of Pastoral Care & Counseling (JPC&C). Did you know that a benefit of your endorsement and partnership with us is free online access to JPC&C?
Check out their latest volume by logging into the website under the Members Area tab on this website.
---
12 June 2018
Want to help save a life? The VA and PsychArmor Institute Offer Online Suicide Prevention Training. It takes just 25 minutes and the cost is FREE!
https://psycharmor.org/courses/s-a-v-e/
---
11 June 2018
A good article to begin conversations about suicide:
How To Talk About Suicide In A Way That's Actually Helpful
---
11 April 2018
The first issue of the Journal of Pastoral Care & Counseling for 2018 has been published. You can view the issue's table of contents HERE.
If you are not yet a subscriber of The Journal, your membership with The Coalition of Spirit-filled Churches has as a benefit a courtesy digital copy of the The Journal along with access to digital archived volumes of this precious resource. For more information, click HERE.
---
05 April 2018
Attention Chaplains and other Clergy, Counselors too!
FB Messenger is NOT private! If you call me via this technology, I will likely not answer. AND keep all confidential messages off of private chats. They are not private.
Yes, Facebook is scanning your messages for abuse
---
22 August 2017
I have just come across an excellent resource for helping introverts and others communicate their feelings. And perhaps it may be useful in sensitizing extroverts and others as to how they may inadvertently be missing various communication cues. It can be found at Introvert Doodles. The one on grief is especially helpful: I'm Grieving and I Want You to Know
---
28 June 2017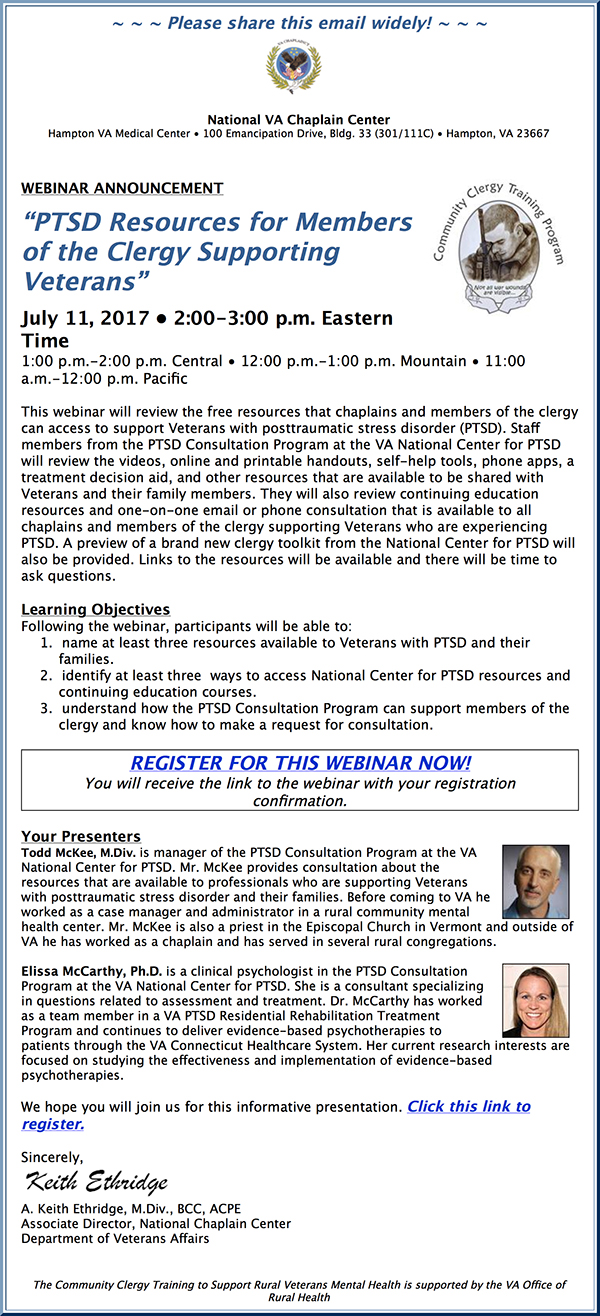 ---
20 June 2017
From Journal of Pastoral Care Facebook

Journal of Pastoral Care Publications, Inc. The Journal of Pastoral Care & Counseling Vol. 71, No. 2, June 1, 2017 is now available online at jpcc.sagepub.com

Members of JPCP Member Associations (ACPE, CASC/ACSS, CPSP, CSC, NAJC, and NIBIC) should access articles from the password protected section of their association websites.

Here is the Table of Contents.

Editorial: Fake Awareness by Terry R. Bard
---
Articles

Art, Objects, and Beautiful Stories: A "New" Approach to Spiritual Care by Aaron P. B. Smith, Julia E. Read


Emotional Sequelae of Elective Abortion: The Role of Guilt and Shame by Donna Krupkin Whitney


Contemplative Listening in Moral Issues: Moral Counseling Redefined in Principles and Method by Jack de Groot, Maria E.C. van Hoek


Contemplative Listening: A Rhetorical-Critical Approach To Facilitate Internal Dialog by Hans Evers


An Exploration of Current Approaches to and Facilities for Spiritual Care Provision in the Republic of Ireland Fiona Timmins, Sílvia Caldeira, Maryanne Murphy, Nicolas Pujol, Greg Sheaf, Elizabeth Weathers, Jacqueline Whelan, Bernadette Flanagan



---

Personal Reflections

The Freedom of the Octogenarian to Find Grace and Humor in the Lasting Personal Strength Gained Through CAPPE* Education Maureen Soukoreff


Superman Goes to the Emergency Room by Joseph Baroody



---

In the Media

Moonlight by Linda Noonan



---

Poetry

Scene from a Lapel Cross: Bad Day by Richard Alan Hadley



---

Book Reviews

Rachael Crabb, Sonya Reeder & Diana Calvin, Listening In: Building Faith and Friendship Thorough Conversations That Matter reviewed by Dr Yoke Lye Lim Kwong


Jonathan Benz with Kristina Robb-Dover, The Recovery-Minded Church reviewed by Dorothea Crites



---

Continuing Education Quiz
---
27 May 2017
At the APC's annual meeting at the Marriott Marquis in Houston, TX, if you are a CSC endorsee, please join us for dinner.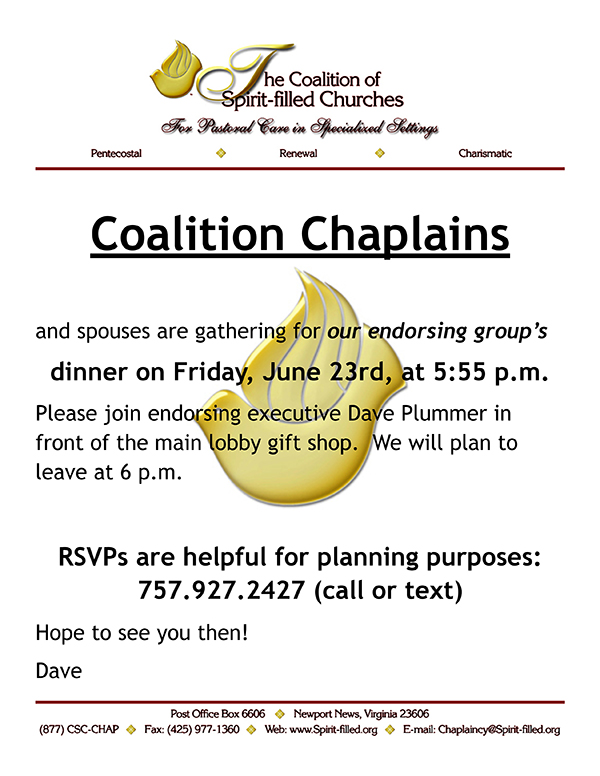 ---
17 May 2017
Another important article that NEEDS to be read by all healthcare chaplains.
---
16 May 2017
This is an important document that needs to be read by all clinically-trained chaplains.
S​PIRITUAL​ CARE: What​ It ​Means, Why​ It​ Matters​ in Health​ Care [PDF]
---